Alongside our work for clients, MODU has launched the Second Life initiative as a catalyst to design for better futures. We work proactively as a creative entrepreneur while engaging in an issue important to us.
Second Life aims to transform urban neighborhoods through the revitalization of vacant or abandoned structures; transforming underutilized properties into dynamic spaces for local businesses and community groups. Our cities are home to countless properties that does not meet the market demand for retrofit projects. Unlike traditional retrofits, Second Life focuses on the creation of "mini-buildings" — lightweight, modular structures that are temporarily installed within empty buildings.

The mini-building utilizes prefabricated components to optimize on-site assembly; significantly reducing the time and costs associated with building renovations, while lessening the need for skilled labor. They are semi-climatized and require minimal utilities to operate, enabling them to adapt to a variety of changing climates.During extreme weather conditions, these mini-buildings act as hubs of activity independent from the larger space. In temperate weather, they serve as "seeds" that support the growth of more expansive activity throughout the existing building.
---
Second Life: Line and Mat / New York
MODU
Urban Revitalization
2019

To date, the Second Life initiative has developed two mini-building types – the Line and the Mat – each of which is suited to an existing building scale. The interim program for each of the mini-buildings is identified based on the needs of the local community and is designed to transition into long-term occupancy after an initial 3- to 5-year revitalization period. Once a property has been acquired, the mini-buildings within are dissembled and transported to the next site in need.



Collaborators: TransSolar (Climate Engineering), Naomi Hersson-Ringskog (Urban Planning) for Newburgh, NY sites
Awards: Winner, 2019 Emerging Voices Award

The Line is a freestanding mini-building that was developed for the Second Life initiative in New York. It allows for the creation of work and community spaces within vast, vacant spaces — such as formerly industrial, infrastructural, or civic buildings — without requiring extensive renovations of the entire structure.


Unlike typical interim solutions-- such as storage containers-- which compartmentalize space without the possibility of growth, the Line activates the surrounding areas in vacant buildings of New York City. It is a raised, open-air platform that is supported by a modular frame and wrapped in mesh screens. The platform is passively cooled in warm months and partially climatized with radiant ceilings and thermal curtains in cold months. The mesh supports the growth of climbing plants, which create a healthy environment within the Line. Similarly, mesh canopies extend from the roofline, providing opportunities for larger, more collective gatherings to develop beyond the Line.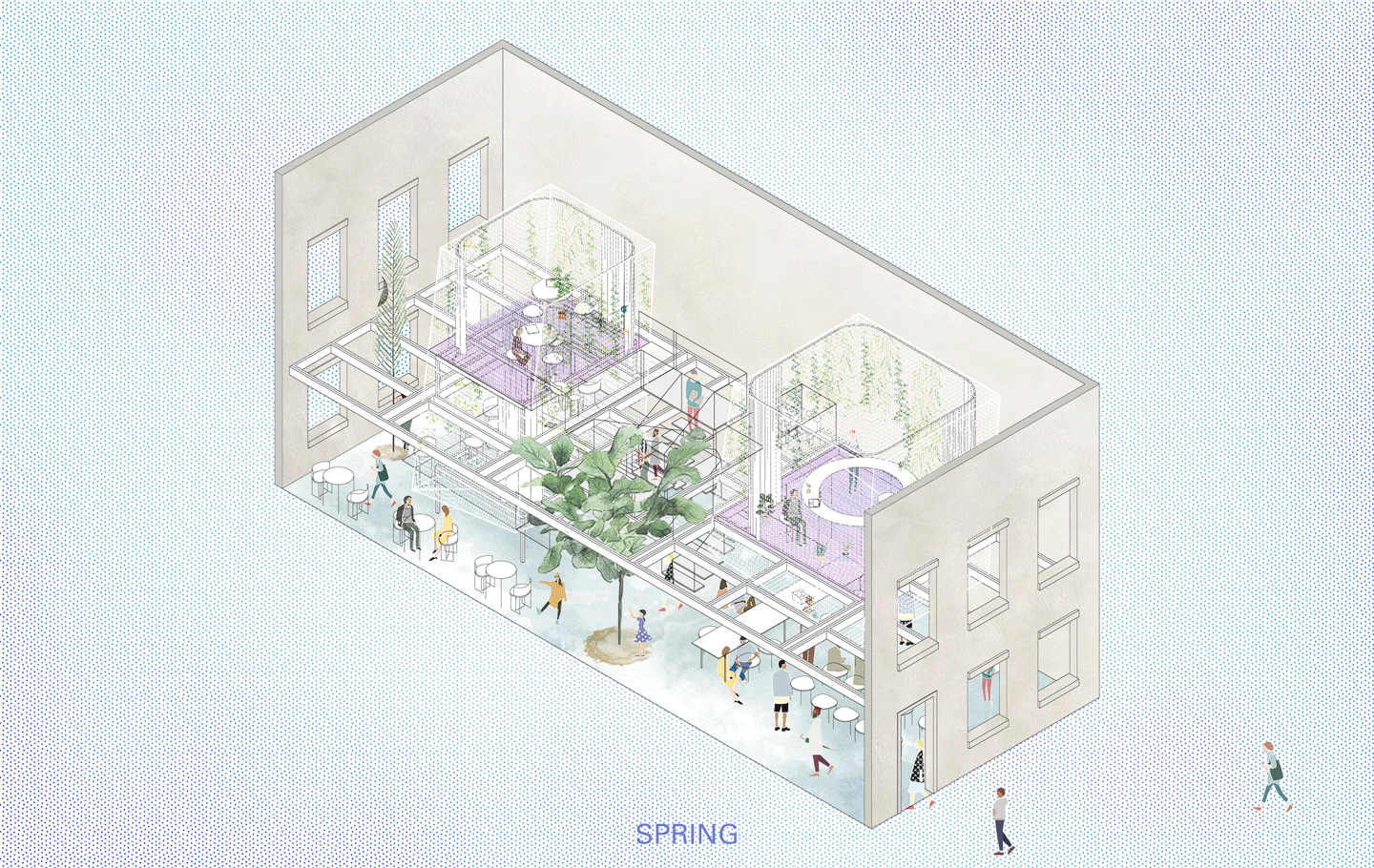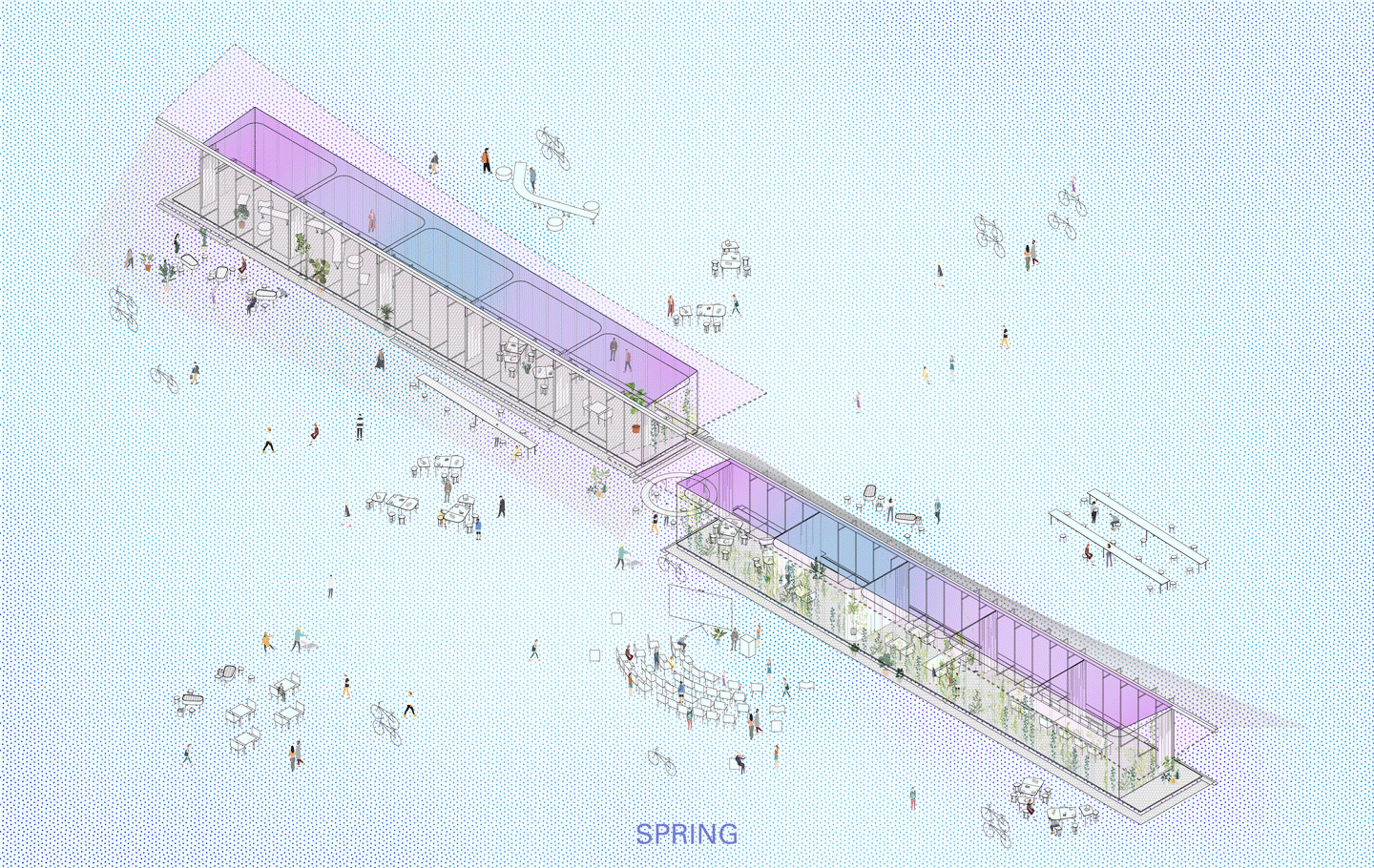 The Mat is an innovative approach to vacant homes and developed as part of the Second Life initiative. It allows users to convert formerly residential — and thus smaller — buildings with inadequate structural integrity into dynamic spaces for local businesses and community organizations. The approach defines building elements that are permanent and those that are designed for interim use.
The open floor framing system consists of modular wood components, which streamline the construction process, minimize costs and reduce the need for skilled labor. This open framework stabilizes the existing structure while supporting open-air rooms. The rooms are enclosed in visually permeable mesh screens and are semi-climatized with radiant floors and thermal curtains. Since they are suspended from the frame, the entire building footprint below remains accessible for gatherings of all sizes. Once permanent occupancy has been established, the rooms can be readily uninstalled while leaving the floor framing system intact for the new owner.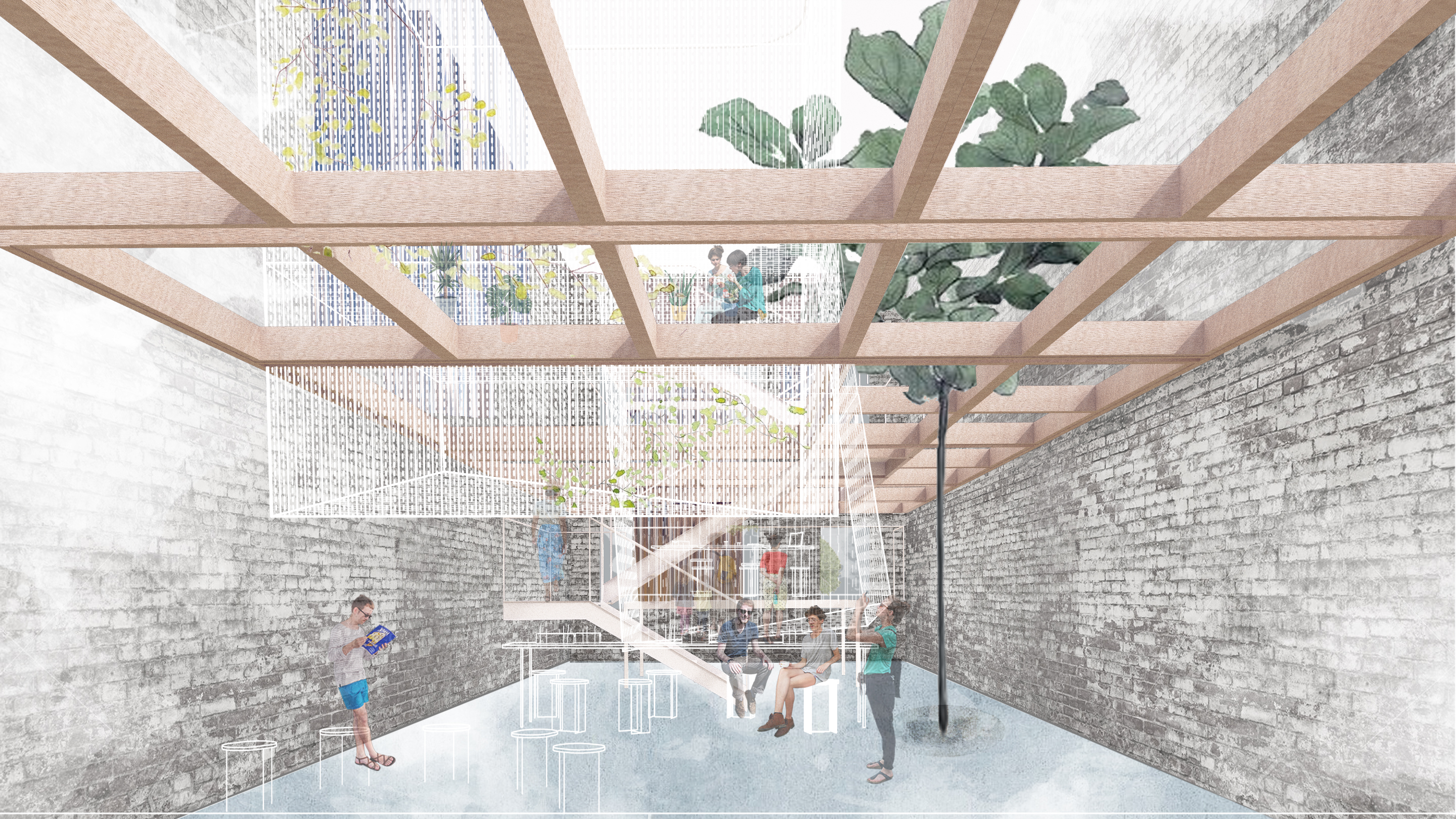 Project Team: Phu Hoang, Rachely Rotem, Jiri Vala, Zhenwei Zhong, Shu Du