Foodopolis / New York
Research
2009 / 1,000,000+ sq. ft.

The Foodopolis research initiative addresses the disparities in the global food system — from the overconsumption of resources by the developed world to the lack of food security in urban and underdeveloped areas. Foodopolis confronts this issue on a local scale with a radical redesign of New York City's food production and delivery systems.



Award: Winner, 2009 Architectural League Prize (Young Architects Forum)

Foodopolis proposes converting industrial barges into a series of floating hydroponic farms to produce locally-grown food for city residents. The farms, which rise and fall with the tides, would create an undulating and verdant landscape along the city's edge. Foodopolis also reimagines traditional farmer's markets as open public spaces assimilated into green waterfront parks; allowing residents and tourists to participate in the local food system. This new infrastructure would be entirely self-sustaining: controlled by collective interests, powered by solar energy and irrigated by captured rainwater.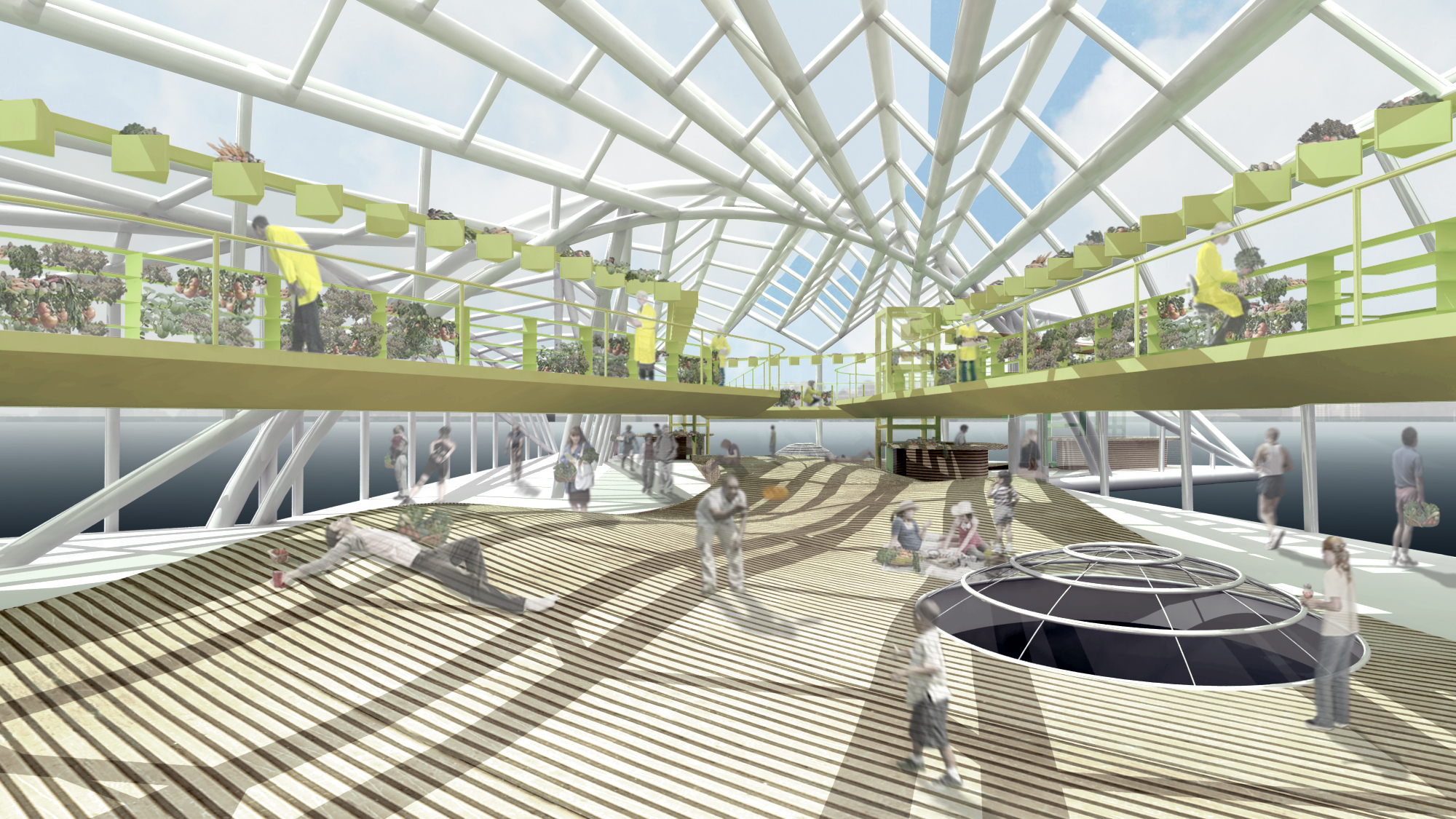 But the question arises: how does a lettuce farmer outbid a Wall Street banker in a city where land values are sky-high? To accomplish this, Foodopolis proposes an adaptive reuse of existing piers that have been abandoned or underutilized; transforming these undesirable locations into hubs of recreation, production and commerce. Together, these farms, markets and parks would revitalize New York City's industrial waterfront into an edible public experience, capable of socially and physically sustaining urban life.
Press:
The Architect's Newspaper
(7 July 2010)
---
Project Team:
Phu Hoang, Ammr Vandal, Edmund Kwong, Dong-Wook Wang
---
Credits:
Arup (Structural)