Exhale / Miami
Art Basel Miami Beach and Creative Time
Art Park
2010 / 25,000 sq. ft.

Exhale was the winning entry in the 2010 Oceanfront Competition, held by Art Basel Miami Beach and Creative Time. The 25,000-square-foot performance art park transformed an unpopulated beach plot into a lively space for gatherings and performances. The public was welcomed by various art programs to view films, dances and concerts while, overhead, an undulating canopy of ropes gave shape to the inherently formless wind.



Awards: Winner, 2019 Emerging Voices Award
Winner, 2017-18 NEA US-Japan Program
Winner, 2016-17 Founders Rome Prize
Winner, 2016 New Practices New York Award
Winner, 2011 Core77 Design Award
1st Place, 2010 Art Basel Miami Beach / Creative Time Oceanfront competition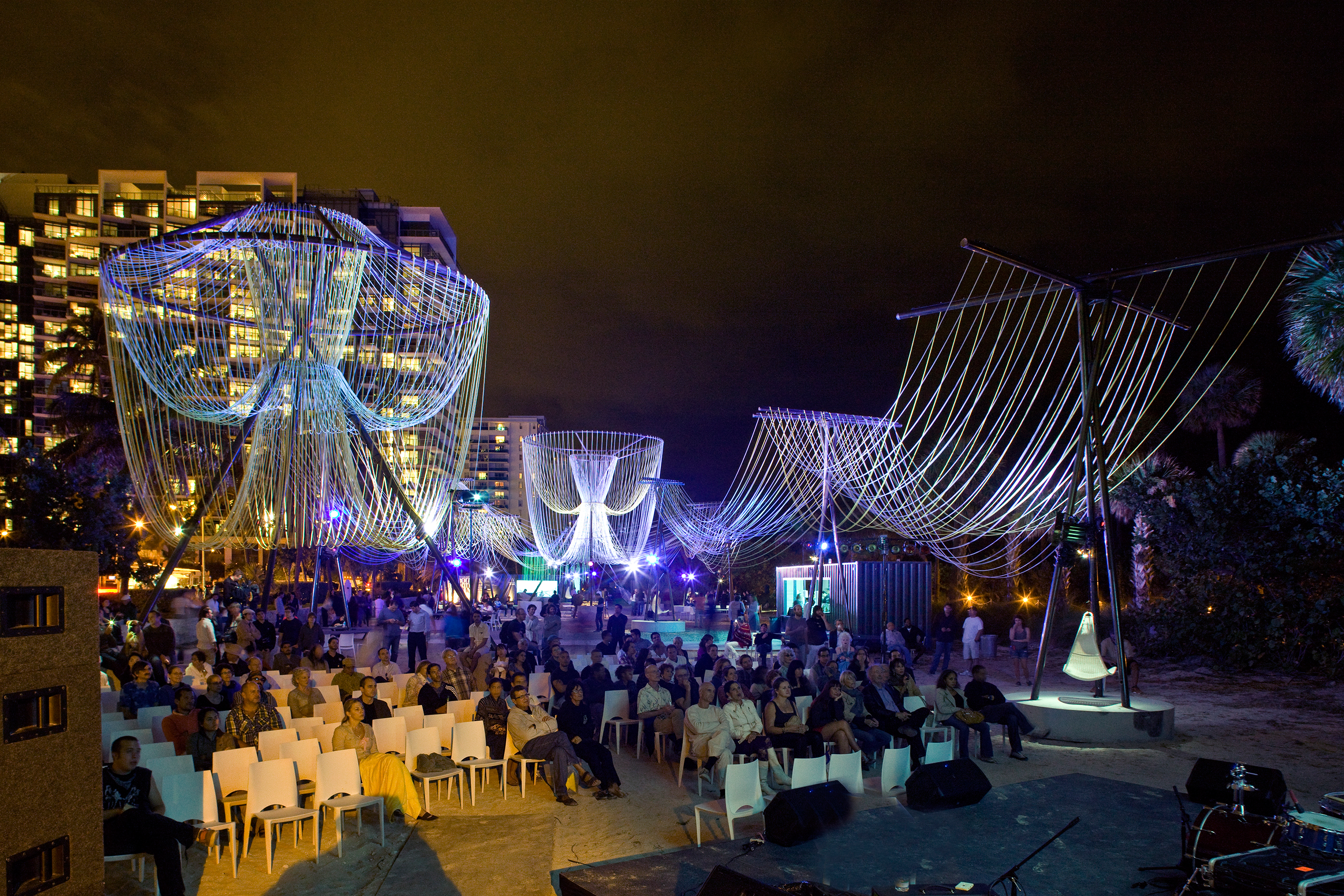 The seven miles of draping rope swayed in the wind, creating active spaces that fluctuated in shape and use over time. These open and variable spaces encouraged impromptu interactions between public visitors and performance artists, who collectively interacted with the wind. At night, the reflective ropes were illuminated by special lighting sequences, which automatically responded to changes in the wind's speed; producing a dynamic interplay of events, people and weather.



When the art park was dismantled, all of the construction materials for the pavilion were donated. The concrete footings were given to the Florida Department of Environment, where they were repurposed to build an artificial reef. Just as the beach pavilion gave shape to wind, this reef gives shape to the water; creating a underwater ruin for both marine life and divers.
Press:

Interior Design
(December 2010)
Icon
(February 2011)
Domus
, Online (18 December 2010)
The Art Newspaper
(1 December 2010)
Financial Times
, Online (1 December 2010)
The Miami Herald
(1 December 2010)
FastCo Design
, Online (30 November 2010)
HuffingtonPost
, Online (24 November 2010)
The Sky's the Limit: Applying Radical Architecture
. Gestalten (2012)
A Touch of Code: Interactive Installations and Experiences
. Gestalten (2011)
---
Project Team:
Phu Hoang, Rachely Rotem, Ammr Vandal, Federica Von Euw, Sunghyun Park
---
Credits:
Arup, YH Engineering (Structural), Robin Hill (Photography)